---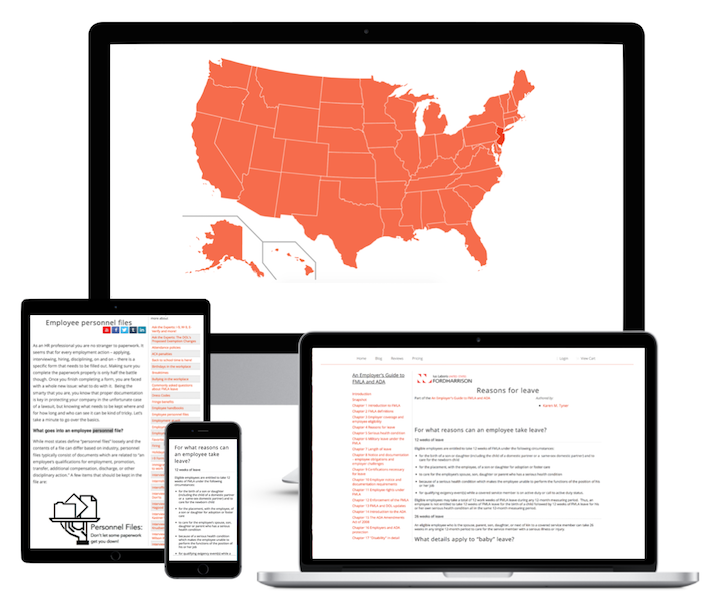 New Jersey HR Library
---
The 2017 New Jersey Prime HR Library is your one-stop guide for answers to your questions and to assembling a comprehensive employee handbook. It features necessary forms, sample policies and commentary so you know what to do, how to do it, and why. When your employees know your rules and expectations, you limit miscommunication and keep things running smoothly.
This publication will help you answer questions such as:
Do I need to grant paid time off for jury duty?
Have I followed the proper steps to enable me to withhold a portion of your employees' wages?
Do I pay required overtime compensation to non-exempt employees, which can include salaried employees?
What paperwork must be filled out for family and medical leave?
What should I include in my bereavement leave policy?
Is my business covered by the Pregnancy Leave Act?
What should I include in my vacation and holiday leave policies?
Plus hundreds of other crucial topics!
Keeping up with employment regulations is complex work for any business. But good human resources guidance can help employers steer clear of added risk and costly lawsuits. For years, the New Jersey Prime HR Library has helped employers and HR personnel find answers quickly. This is a comprehensive guide to help employers -- from pre-hire through termination.
Written by top New Jersey attorneys, the New Jersey Prime HR Library features:
One hard copy books and online access to the New Jersey HR Manual.
Access to HR Update, a weekly e-newsletter that lets you know what's new in the HR world every week.
Free access to HRsimple webinars, where attorneys simplify complex employment law topics and help you deal with them.
Have more questions? Give our customer service team a call at 866-439-2227
Table of Contents view
New Jersey Human Resources Manual
Features of the HR Library
Chapter 1 Snapshot
Chapter 2 Compliance thresholds
Chapter 3 Recruiting and hiring
Chapter 4 Background checks
Chapter 6 Employee handbooks
Chapter 7 Non-compete agreements and trade secrets
Chapter 8 Wages and hours
Chapter 9 Child labor
Chapter 10 Performance evaluations
Chapter 11 Independent contractors
Chapter 12 Federal contractors
Chapter 13 Privacy in the workplace
Chapter 14 Social media
Chapter 15 Discrimination
Chapter 16 Workplace investigations
Chapter 17 Disabilities and reasonable accommodation
Chapter 18 Employee discipline
Chapter 19 Termination
Chapter 20 Plant closings and mass layoffs
Chapter 21 Family and medical leave
Chapter 22 Military leave
Chapter 23 Safety in the workplace
Chapter 24 Benefits
Chapter 25 Workers' compensation
Chapter 26 Unemployment insurance
Chapter 27 Health care continuation
Chapter 28 HIPAA
Chapter 29 Disaster planning
Appendix A Recordkeeping requirements
Appendix B Posting requirements
---
Professional Development Credits (PDCs) for the SHRM-CP or SHRM-SCP
hrsimple is recognized by SHRM to offer Professional Development Credits (PDCs) for the SHRM-CP or SHRM-SCP.
PDC webinars are offered monthly or as major changes occur in the HR world.
---
About the Law Firms
Author of: New Jersey Human Resources Manual
New York Human Resources Manual
Pennsylvania Human Resources Manual
A first generation firm established in 1970, Cozen O'Connor is a nationally recognized law firm with approximately 575 attorneys in 23 offices in the U.S., U.K., and Canada. Ranked among the top law firms in the United States, Cozen O'Connor has gained a national reputation for quality representation of clients in business and litigation matters. Our attorneys handle the most challenging matters for a diverse roster of clients that spans virtually every industry. With...
---
About the Authors
Author of: New Jersey Human Resources Manual
New York Human Resources Manual
Pennsylvania Human Resources Manual
works with: Cozen O'Connor
Jeffrey I. Pasek is a Member of Cozen O'Connor and served as chair of the firm's Labor & Employment Practice Group from 1995 to 2007. He has a national practice representing employers concerning the entire field of labor and employment issues, from collective bargaining to employment-related litigation with particular emphasis in the areas of employment discrimination and non-competition agreements.   Jeff has extensive experience in ad...
---
New Jersey Chamber of Commerce
Since 1911, the New Jersey Chamber of Commerce has been working with and supporting the business environment in New Jersey and is proud to present this updated HR publication to assist you in your daily work. We hope it will help you operate your business more efficiently and avoid the hidden pitfalls that lurk among the maze known as HR.
Targeted, timely and comprehensive, this manual is considered the cornerstone guide of any compliance library. It covers more than 30 primary topics directly related to the employment process, from job descriptions through termination and beyond. Each includes practical advice on what should be done, solid advice on how to do it and a complete explanation of why it is important.
This series was not written as a response to employee-related problems, but to help you avoid them. The guidelines and checklists will make that easier and the examples, FAQs and step-by-step instructions will give you the confidence to know that you are on solid ground.
This manual is part of a series of publications prepared exclusively for New Jersey employers and made available by the New Jersey Chamber of Commerce in a continuing effort to provide reliable and practical information for our members and the business community in New Jersey.
If you would like to know more about the New Jersey Chamber of Commerce, we would welcome your call at 609-989-7888 or a visit to our web site at www.njchamber.com
.
---
Customer Reviews
hrsimple.com is a must-have not only for HR professionals in the state, but for labor and employee relations professionals, employment lawyers and small business owners. It is comprehensive in scope, addressing the many legal and compliance issues that face employers from recruiting to retirement. Yet, despite the wide range of issues covered, and the complexity of those issues, information is easy to find and comprehend, avoiding much of the legal-speak that can often be difficult to interpret.
John A. Challenger, Chief Executive Officer
at Challenger, Gray & Christmas, Inc., Chicago, Illinois
---